Sue Hahn
A wild bird lover and imaginative hobby writer and grandmother, Sue Hahn enjoyed this incredible true story.
---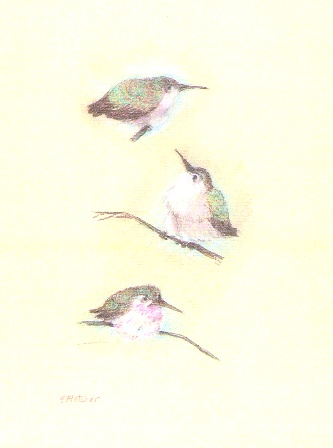 After caring for the "Tiny" bird, artist and wildlife woodcarver,
Cherie Fletcher, made these sketches.

While strolling down my country lane,
one sunny, summer day,
I saw what looked to be a locust
just resting in the road.
On closer look I saw instead
a baby hummingbird!
Poor little one. He tried to fly
but then gave up...exhausted.
As time dragged by no parent came.
I heard myself declare,
"Little fellow, it's not safe
for me to leave you here!"
So, tenderly, I placed him
in my hand and took him home,
Where I sat him in a shoe box
which I carpeted with grass.
Then I added a twig onto which he stepped
and made himself at home.
He drank his fill of sugar-water
from a daisy dangling overhead,
Then he let me stroke him with my finger,
getting a little bird massage.
As our unlikely friendship stabilized,
I had the urge to sketch him.
So all day long from that trusty twig
he stared at me and I at him.
As I drew his little portrait,
admiring all his wondrous parts--
Mini-wings, needle-beak, microscopic feathers
I said, "I'll call you Tiny!"
Our idyllic afternoon sped by
and night began to fall.
A cloth draped over his little room
made it dark so he could sleep
But then I dreaded how he'd last
the night without his mother.
Never fear. We two slept soundly,
perhaps dreaming of each other.
And at dawning of another day,
I thought I heard a sound.
I did! I heard a faint, weak squeaking!
A "Tiny" call for breakfast!
I served more sugar-water
to my hungry little guest,
Then said aloud, "Can this go on
Are you really feeling stronger?
Can I teach you how to fly?"
I said, "You need your mother!"
So with Tiny's box in hand,
I returned to where we'd met
And saw a sight I'd missed before.
A Trumpet Vine grown up a tree
Ablaze with bright orange blooms
Surrounded by a dozen hummingbirds!
Tiny's family! But how might they
come to claim their little one?
I chose a nearby apple tree
from which he could be seen,
Then secured him, twig and all,
and stepped away to watch.
Moments passed and then a bird
zoomed by to greet my little friend.
It squeaked, "Hello" or was it scolding,
"Where have you been?"
Then it darted to and fro to feed him
nectar from the blooms.
I sighed in relief and whispered thanks
to this wise, forgiving parent bird.
Then I hurried home with a happy heart
to add iridescent color
To my precious sketch-pad memories
of a "Tiny" bird adventure.