Submissions

Contact
The Aroostook Review


Sign up for
The Aroostook Review Newsletter!
To do so, send an e-mail by clicking on the link above with the word "Subscribe" in the subject line. To unsubscribe, send an e-mail with the word "Unsubscribe" in the subject line. Please allow a week for processing.

NEW-CUE, Inc. is a non-profit, environmental education organization founded primarily to assist writers and educators who are dedicated to enhancing the public's awareness of environmental issues.
George O'Connel
A contemporary American printmaker and painter, George O'Connell received degrees for his studies at the University of Wisconsin in 1950 and 1951. He then continued his art education at Ohio State University in 1952 and 1953. O'Connell was the recipient of a Fulbright Award which enabled him to conclude his studies at the Rijksakademie Van Beeldende Kunsten, in Amsterdam (1959-1960). The artist currently resides and works in Oswego, New York where he is Emeritus Professor of Art at the State University of New York College at Oswego.
For the past fifty years the prints and paintings of George O'Connell have been included in major exhibitions both in the United States and abroad. Public collections that today house examples of O'Connell's art include the Library of Congress, the Smithsonian Institution and the National Collection of fine Arts, Washington, DC, the New York Public Library, the Cleveland Museum of Art, the California Legion of Honor, San Francisco, the Philadelphia Museum of Fine Art, the Gemeente Museum Van Schone Kunsten, The Hague, Holland, the Pushkin Museum, Moscow and the British Museum, London.
Illustration of Lewis Turco's "Sleds"
Front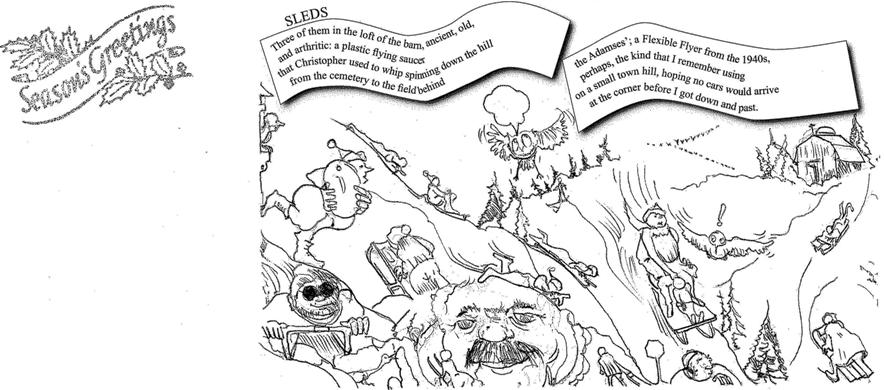 Back