The Aroostook Review is
the online literary journal of the English Program at the University of Maine at Fort Kent.
---
Editorial Staff
Editor-in-Chief
Geraldine Cannon Becker
Managing Editors
Katie Levesque
Kelsey Dubois
Assistant Editors/Readers

Angel Dionne
Aaron Tolbert
(poetry)

Jenna Beaulieu
Kelsey Dubois
(Fiction)

Katie Levesque
(Art & Photography)

Stacy Bettencourt
(Nonfiction)
Assistant Editors/Readers
Biographies
Webmaster
Joseph E. Becker
---
Submissions

Contact
The Aroostook Review
---
Previous Issues
---


Sign up for
The Aroostook Review Newsletter!
To do so, send an e-mail by clicking on the link above with the word "Subscribe" in the subject line. To unsubscribe, send an e-mail with the word "Unsubscribe" in the subject line. Please allow a week for processing.


\


Traditions
Welcome!
The theme for our sixth issue of The Aroostook Review, is "Traditions," so, of course, a lot of our content will fit that theme. Our editors and readers have worked hard and we think you will enjoy the readings and be pleasantly surprised by the selections even if they do not fit the theme for this issue. As usual, we will continue to seek a variety of quality works for each genre for future issues. After talking it over, we came up with the idea for "Creative Communities" as our next theme, so for Volume Seven / Summer 2012, we will be seeking works connected to that theme. We look forward to reading and viewing submissions (deadline: March 15, 2012) that are connected to or involving "Creative Communities."
Our Managing Editor for two issues, Katie Levesque (who has previously been our art/photography editor—and once again, my husband and I have selected some of her work for you to see) has done a fine job for this issue. And she has been handing over more responsibilities to our up-and-coming Managing Editor for issue seven (and perhaps following…), Kelsey Dubois. You may read a write-up Kelsey did of an artistic presentation by Jim Marks in this issue. Kelsey shares many of Katie's interests and talents in photography and art. It has been a pleasure to work with these two ladies. We will miss Katie as our Managing Editor, but she has promised to send us more of her work and to do some interviews for us in the future.
I'd like to remind anyone who sends us work for consideration that the wait time is longer than you might expect. We are an annual online journal and we have made content available to readers as late as late August (though our goal is mid-summer, and someday I hope we will meet that goal). Please make sure you follow the submission guidelines when you send in work, including the bios. We continue to have trouble with bios that we have to edit down and some works still give us a bit of difficulty. No zip files, please. Our readers should review the guidelines carefully because the guidelines themselves may have been modified. Continuing, our thanks go out to everyone who pitched in to help make the current issue ready, and many thanks to our readers for being so patient. Once again, I'm sure this issue is worth your wait. Feel free to let us know what you think by sending us an email. If you like a particular work, let us know and we can contact the writer. Feel free to share, and "friend" us on Facebook.
In this issue, we turn our Spotlight on Poet, Sandra Lynn Hutchison. It has really been a pleasure to correspond with her about our writing and the work we have been doing. Perhaps one of these days we'll be able to work together on a project. You'll get a chance to read some of her poems in this issue as well as find out a little more about her in the Spotlight. I sure do wish I'd had a chance to hear her read from her work at the 2010 Roque Bluffs Poetry Festival. I certainly enjoyed hearing about this festival from Sharon Bray . You may remember that Sharon did an interview for us with Kelly Lombardi in a previous issue .
I have also been corresponding, with our Featured Writer for this issue, John Reimringer. We were in classes together at the University of Arkansas and we shared a corner office with a few other fine writers. I'd love to feature them all here, for I think most of them have really been very successful with their writing and publishing. John's book,
Vestments
, is now also available in paperback. The cover is really beautiful, as you can see from the photo. But you know what they say about judging a book by the cover… You can read an excerpt of the novel
here
. When the book first came out last year, I wrote John and asked if I could do an interview with him, and he agreed. Our schedules were such that it took a while for me to actually send him some questions. His responses were fascinating, and I'm sure you will enjoy our exchange. Again, let us know what you think by dropping us a line to
areview@maine.edu
.
In our Transformative Language Arts section you will see some narratives by learners who first sent their work to be considered for publication in WE LEARN 's Women's Perspectives. I am on that selection committee and some of the works really stood out to me as fitting the theme for our issue "Traditions," so if they were seen as "off topic," or what have you, for WP, then I requested them for our consideration at AR instead. Many thanks to those participants for letting us consider those works. You will also see an interview Jessica Becker did with E. G. Bailey. We attended a spoken word workshop he directed at Goddard College last year. I just know you are going to love this interview. The content flows so smoothly—it's liquid gold—and pure poetry all over the place.
Happy Reading! --Chief Editor, Geraldine Cannon Becker

Featured Author
John Reimringer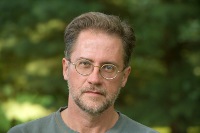 photo: courtesy of author
John Reimringer's first novel, Vestments, was named one of the "Best Books of 2010" by Publishers Weekly and won the 2011 Minnesota Book Award for the Novel and Short Story. A Publishers Weekly Pick of the Week/Starred Review, and an Indie Next and Midwest Connections pick, Vestments was the Milkweed Editions 2010 Editor's Circle Selection and has been featured on Minnesota Public Radio's Midmorning show.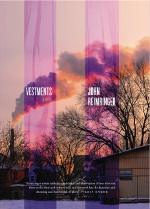 A Spotlight On . . .
Sandra Lynn Hutchison grew up in Toronto, Canada, and was one of five children born to psychologist parents with interests ranging from behavior modification to forensics. Hutchison has worked has a journalist, a researcher, and an editor, but for most of her career, she has taught English Literature, with a focus on modern and contemporary poetry. Although Hutchison has written poetry throughout her life, it was not until the last decade or so that she began to "practice the art of poetry on a daily basis."
Word on...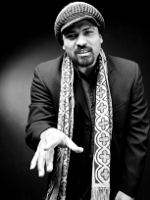 photo: courtesy of Uchefotography
Liberian-born multidisciplinary artist, e.g. bailey, is an actor, spoken word artist, filmmaker, playwright and producer. He is currently Executive Director of the MN Spoken Word Association, which he co-founded to develop the Singers of Daybreak conference, and Trú Rúts Endeavors, an artistic organization that fosters innovative projects and works. He recently directed his first play, for colored girls and black boys: The Remix.